Welcome to the unofficial website for MonotoneTim, the grad school student who's been around since JTV and is partnered despite sometimes going 4 months without streaming! He's got a dry sense of humor, and his streams never go as intended, to hilarious effect. He just has a magical ability to break any game you give him or put inordinate amounts of work into it to shock and awe you. Regardless of if it's PubG or a game from Archive.org, he's sure to defy the intent of the developers and the expectations of the chat.
Some past-times of his streams include Oregon Trail II, RollerCoaster Tycoon, The Sims (1-3), Free Sims Online, Cities: Skylines, Puyo Puyo, and shovelware from Archive.org. To see the games he has played and footage of it, go to the Links section to see what all he has done.
So, who is this "Tim" guy, anyway?
Glad you asked. MonotoneTim, aka Tim Troppoli, is a [age calculated with JS; he was born December 1, 1991]-year-old grad school student at the University of Maryland at Baltimore studying physiology and pharmacology. His first major article was published in PNAS on February 22, 2019. (You can view the abstract here.) Although he claims to be a busy grad student with no time to stream, he streams on his alternate channel, StereotoneTim, quite often.
Tim originally started streaming in June of 2009, on Ustream. In 2011, he moved to Twitch and became a Partner (he was one of the first), and got his subscription button in 2013 (fun fact: being partnered used to just let you run commercials, 2013 was when they introduced sub emotes); you can check out his subscriber emotes and subscriber badges here.
Tim knows Japanese, and you'll see him read Japanese text on stream from time to time. In 2016, he released an English translation of White Ties, an RPG Maker game. You can download it here (mirror).
On YouTube, Tim's most famous video is "Auditory Illusions: Hearing Lyrics Where There Are None" (over 4.5 million views), a video about how our brain fills in lyrics when an audio file with lyrics is converted to MIDI. This is followed by "4,601 Guest "Accident" in Roller Coaster Tycoon" (over 300,000 views), where Tim commits mass murder opens an impromptu pool in his RollerCoaster Tycoon park and gets an award afterwards. In 2016, Tim released the Pepsi albums, featuring Pepsi-themed remixes of classic hits such as "Dancing Queen", "Pinball Wizard", and "Space Odyssey." The stream that started it all can be found here.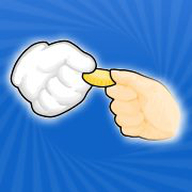 Extra Lives
Extra Lives (not to be confused with the charity Extra Life) was a group of streamers (Tim and his friends) that did video game marathons to raise money for charity. They were inspired to to this in early 2008, but did not officially launch until April 20, 2009. Their website is gone (you can see an archive of it here) and they haven't streamed in years, so it's safe to say Extra Lives is defunct, but as of May 3, 2015 (the last time their FAQ page was saved on Archive.org), they have raised over $78,000 for charity! Some of the charities they raised money for include UNICEF, Free the Children, and charity: water. If you want to see their old marathons, check out their YouTube channel.
Links
Want more Tim? Great, click these links!
Fan/Novelty Sites
Tim has other fan sites, too! Check them out!
Tim-Related Downloads
Most of these are readily available on The Chance of Tim Streaming Tonight or the Sellout List, I'm just mirroring them.
| Name | Extension | Hash | Value |
| --- | --- | --- | --- |
| Sellout List (2019-04-02) | txt | sha256 | e779c9b3e8e8001e659714ff1b833e39a7a6f2b587de4aceb8bdc2766713687f |
| | | sha512 | 801e07ce8ab42a951f48d4e6c83bef107792d34f945fd207ba3fee2c189bdb48b2f01d4a8e815abb12f7527e649d58fcb49b28725ad9b88e905fc2c7d33ab327 |
| Sellout List (2018-05-19) | txt | sha256 | e8338a41dfd227202f13806c4377ff681c245a4645c48ec7d6cb6e7a4b560ff8 |
| | | sha512 | c489b48e0a8f42fc8a365d569cc819f52bbaa6e656cb7c12a27922270d3daa5c15692d2d0b9b294b4c1e5de2701ea93fc79ea42c987974a2aba80110a3fb329b |
| Sellout List (2018-04-18) | txt | sha256 | ed65b7455e4716b73df6341a50efc26b20c5db164a24a35b6b04d0204b788ce3 |
| | | sha512 | e21ef4328f95afa37b0007b6a12b9212235c578ded1ece5f60611ffff7f62a7b9b32b7fbe69ea1eef749b9ea575507cb820df40f8f2e0d985fe65f6d7b3cb755 |
| OH_GOD_HELP | apk | sha256 | b9dc5140a5e3517c55f09251f7984e27d769983c6d55cc8db82699429f975aae |
| | | sha512 | edba1cca1fcbdfadf5d96ea5540105e764608d210e0a67dab5e5b16d1196c1374c80f7d3f9bb92d609b9b8a52ab9aafaad189a476b81ad022c245bf8386fcc89 |
| OH_GOD_HELP | exe | sha256 | 7ac34ff2f248b8834afe7fcc3c8d9eef1cd6aadf3a0505e537fb8d2a65a5bbf7 |
| | | sha512 | 9609c5ef08c7eb1b42df82d1b5ac1f8e894a14a1eb3c6b41125f5e8b4677f7747bde6c850ce60715ed5bbbbc9efa44e19fe581d43c9d89c4b820b4ff6c72303e |
| OH_GOD_HELP | swf | sha256 | e483f82060ad2ed69ab992465594f28ba249de6b7e53d4798956da04b19c8b73 |
| | | sha512 | 9086a4b3aedbe4e179054866a3a65bdcadd5f0e60fe6ff5295ab535196d785bb94a188ff43f4b804c9456c7838c87fca0080d6d329073eb1737ec53b6769f539 |
| Oregon Chat Deluxe | exe | sha256 | e22c410bb93cebb2718fe1156957a87dc2d42fdc9e6b52320449795d9bf7e8ab |
| | | sha512 | 1e24a2c80aefcf0995356da754f29556bc575f893ba49c2e56150884283b35127eb7fa71292e5edb445b65fc434b8b5e08d41c3c22919600ee32a45d67113056 |
| pEPsi | MP3 zip | sha256 | 5f0a31dc9bbf97ab01c4c06f8c8bd31eae80d58bbdb86048ad6e1eabf88bcaa9 |
| | | sha512 | d76fc4fdf29f150513cbf42f8d7891d413e573b11ff5269d37ca7d5d16a2832529134f3a08725225135f25a93db855bbafd9bc8dc55dea5f1ea4d42d0fcc841d |
| Sgt. Pepsi's Thirsty Hearts Club Brand | MP3 zip | sha256 | 1c48250c6433362547aa7d1fdc39a8763ff8f7b7e92aa7d1bdc9e1e0e72fcfcb |
| | | sha512 | 9fd87c94469c2f1e77ae7536d19c739946832f61eb58fed91417b199cc079a2f959425962584edc90d939352502c843841c116a2c972a4e3206afe6426f892af |
| Sgt. Pepsi's Thirsty Hearts Club Brand | FLAC zip | sha256 | 1efef295ba7a97a83ea6cecfbe39b3f8a2c48ad2bc79e7eb6ce1e51470dda729 |
| | | sha512 | 58db3568207c8ff261c5c32463c9f5f3ec38b1358f857876496e2af072c809d592953076fb6bf189901819237cb8ca81a98d235f07f8deedfc01aed59c03824e |
| Puyo Puyo Snoop Dogg | zip | sha256 | 0793abecbd5ea62185a4a9d7c2f75beb4519ddd7587aa889dac44a66346d145b |
| | | sha512 | c56171300c1ac5aaf4f589e48a9c5d808b71c9e284a3d1e1c9933ab61febbd2a1d7483b02247e059e8820df25790f00ed7f377c966cd38850d3dc928638a0879 |
| RCT Challenges | exe | sha256 | f746c2ab323fd39b83592a1ad54ec61a6c07986eac9ec6b9e18e94ed959f6e74 |
| | | sha512 | 22f6e89fa29ffc3744549e7a4f84d2a9bad84184ba20c85878c62565f674ea0f9a90622d60ba656b5c14835c2a9119e963c8460db84bad390e44aa75b906ded7 |
| RCT1 Saves | zip | sha256 | 55e18948470ca7abfa303bd65d107bc84d13ac81468850960831c587f0441d42 |
| | | sha512 | 3f7d01525f06a9a615d074e51851e4b1bff641dc37ab47615880b0f2f5db335c4fbe8483713332a09a23f5e2c5c39dc64175eb7b547a8c126bfce1238ae2ff3e |
| White Ties | zip | sha256 | f499c16a6103f994156f4b63d42c9b02af4f6de8d84505c425a843f5e7c2325b |
| | | sha512 | 09059d1c331fee2f5642767acb6ad7ccbffab35cdc28aeaa3d36260f81084d9b96a9f2ef396c8456dc776149575d40330b45ed6fdd293e14765e6d7046749d88 |
Some of the programs might be flagged as viruses, but that is because they are relatively obscure programs. You can ignore any warnings (or not, I'm just an Internet stranger).
So, who made this?
This site was created by Luna Moona during his free time. I'm not getting paid to do this, I just really like Tim. You can check out my Twitch page here. I made this site because I think Tim deserves a decent website that's not hosted on Neocities (and he let the domain registration for his site lapse). You can contact me on Discord.
Changelog - 2019-04-02
Added download links for pEPsi albums.
Added new sellout list download.
Contact
Questions, comments, or suggestions for the website? Send them in here.
Note: This is an unofficial website, Tim does not read anything you put here. This goes to the maintainer of the site, Luna Moona. The best way to get in contact with Tim is probably via Discord (in the Links section above).